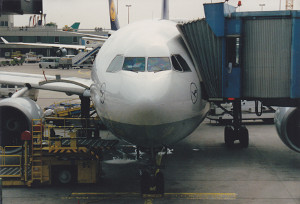 (translated by Juergen Matthes)
8 months later. The story with Claudia had become quite serious by now, so I applied for my first 10 percent flight.
I applied for a flight from Düsseldorf to Vienna, via Stuttgart, with Lufthansa Airlines, it was supposed to be our honeymoon trip. A honeymoon trip, as everyone knows, usually takes place after the wedding, but since it takes for ever for such an application to get through all of that red tape I applied for it before our wedding.
Our "belle etage" (our administration department) noticed in a hurry (took them 2 weeks) that Claudia was neither a relative nor married to me and figured out precisely that a flight for her could not be applied for! Even an attempt of clarification of the circumstances of my application didn't change their mind. But then – I negotiated directly with the lady at Lufthansa's personnel travel department, and she turned out much more open minded!
Simple solution, as proposed by her: The tickets will be deposited in Düsseldorf at the Lufthansa passage ticket counter, and upon presenting our wedding certificate would be handed to us. Our belle etage found that idea so enspiring that they insisted that the tickets should be deposited at their office instead! Well, even they should have something to administer sometimes …
Wedding-Eve-Party (quite an event in Germany) was on Friday night, our wedding on Saturday and our honeymoon-flight should take place on Sunday. On Sundays our belle etage is not there, and naturally they didn't pay attention to the dates and hadn't thought of any alternatives. But – through the heroic activity of our head training officer, who got the tickets out of the administrative office, our flight finally was granted. That's what I figured …
This back and forward about the tickets was getting quite on my nerves, but at the airport my newlywed wife impressed me even more in some ways. She felt – the flight to Vienna was booked out and we certainly would not be accepted on that flight. As everyone knows, such feelings of a woman can only be corrected by the hard facts (hopefully)!
The procedure of checking in standby-passengers at Lufthansa Airlines is as follows: First the full paying regular passengers board the plane, then their standbys, finally us – if there's room left! So we had to watch how more and more people get into the plane, even more follow, the hopes of my wife diminish with every person passing us! Such uncertainty is hard to bear for a woman. So she sends me forward every few minutes, through crowds of people, back over to the counter to check with the lady, whether there will be room for us.
This friendly lady, I felt bad to constantly get on her nerves. We came up with a solution: Every time I would come by we would nod to each other, to be seen by my wife. This would help her, would help me and above all, would help my wife …
But – calming down my wife lead to new problems. We hadn't booked a hotel room in Vienna! What if – there were large conventions in Vienna, Olympic Games and massive quantities of immigrants, possibly all at the same time? I was glad that she didn't know that so far, if we ever would get on that plane, we only would reach Stuttgart. There the whole game would start over, since the leg from Stuttgart to Vienna was considered as an entirely new flight!
We got to Stuttgart finally. Phew! During the whole flight we discussed about the hotel-situation at Vienna. So the excitement about getting on the Vienna flight was quite a nice change! Honeymoon-trip hard core!
The flight to Vienna (which we really made) was, except multiple anxieties of my wife, uneventful. But in Vienna bad luck finally struck. A little ways after the luggage carousels we found a small booth with a banner saying: Hotel. I couldn't hold back my wife Claudia, she rushed over to that booth and had booked a room in a hurry! A double at Hotel Wandl. My imagination had been to go downtown, look at the city, at hotels and rooms and choose a nice one without hurry.
Oh well, now we were all set, so off we went to Hotel Wandl. The double had separate beds. And it was our honeymoon-trip!
It yet was a very nice trip. Vienna was worth it, we especially liked the Arts and History Museum. And you learn from experience. The trip back, though the same procedures getting a seat on the flights applied, was much more relaxed. (We were living in Düsseldorf anyway and weren't in need of a hotel room!)